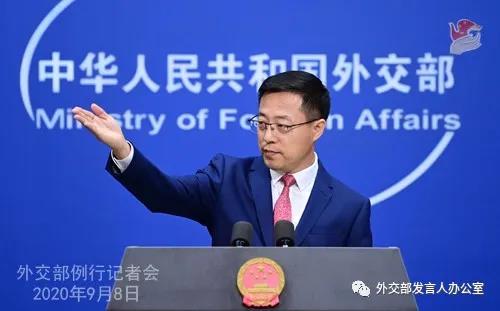 (ECNS)--Chinese Foreign Ministry spokesperson Zhao Lijian on Tuesday slammed the U.S. for hyping up the issue of Mekong River water resources to sow discord among Mekong nations.
The remarks of FM spokesperson Zhao Lijian ran as follows.
Beijing Youth Daily: U.S. Assistant Secretary David Stilwell said recently that one especially urgent challenge to ASEAN is China's manipulation of the Mekong River flows for its own profit at great cost to downstream nations. He cited a report claiming that "China has been manipulating the water flows along the Mekong for 25 years, with the greatest disruption in natural flows coinciding with major dam construction and operation". He also said that the US is working with Mekong countries, the Mekong River Commission and international partners to ensure calls for water data transparency from China are answered. What is your response?
Zhao Lijian: Since last year, the U.S. has been hyping up the issue of Mekong water resources in an attempt to create a hotspot, sow discord between regional countries, and sabotage the atmosphere for Lancang-Mekong cooperation. This is nothing new. I would like to stress the following:
First, we should have a science-based view on the functions of hydrological facilities. Experts have found that after China's cascade reservoirs were put into use, dry-season flows of relevant sections increased by 20 percent compared to past natural levels. The latest report by the Mekong River Commission (MRC) released in August also acknowledged the reservoirs' function to store water in the flood season for later use in the dry season, which helps maintain the steady flow of the Mekong. On the whole, the hydro-power facilities in China plays a beneficial role for Mekong countries.
Second, we should stick to facts when looking back on China's tremendous efforts in Lancang-Mekong water resources cooperation over the past many years. For 18 years in a row, China has been providing flood-season hydrological data for free to the MRC and lower-stream countries and helping them formulate plans for flood prevention and drought mitigation. Since the Lancang-Mekong cooperation mechanism was launched, China has sent emergency notifications on major changes in outflow of Jinghong hydro-power plant more than 10 times. At the third LMC leaders' meeting held not long ago, Premier Li Keqiang announced China will share with the Mekong River countries the annual hydrological information of the Lancang River, which will further elevate cooperation in this regard.
Third, the report cited by the US side is presumably the study by Eyes on Earth. It alleged that China had impounded 280 billion cubic meters of water. As a matter of fact, the maximum capacity of Chinese reservoirs is only 42 billion cubic meters. A report with such obvious deviation from facts has no scientific value. It has been found to be gravely flawed by many international hydrological experts. I would advise caution to my fellow American diplomats who want to quote its findings.
Finally, I would like to say that the Lancang-Mekong River links the six littoral countries' future closely. It is China's belief that as long as we have mutual trust, understanding and support, rise above external disturbances and focus on practical cooperation, we can properly manage our shared resources and promote common and sustainable development to the benefit of all our peoples.